We are searching for a talented and qualified optometrist to join our growing practice on the Gulf Coast. You will be expected to use your skills and knowledge to provide high-quality vision care to new and current patients, including a sizable medical patient population.
To qualify for this role, you must be licensed in the state of Florida and possess in-depth knowledge of eye-related disorders, conditions, and treatment. The ideal candidate will be customer service oriented and comfortable with providing primary care optometry to our patients.
Optometrist Responsibilities
Perform comprehensive eye exams
Evaluate patients for other health issues such as diabetes, and refer to other healthcare providers as necessary
Perform vision tests and analyze results
Diagnose and treat ocular issues and diseases as necessary
Prescribe corrective lenses and fit contact lenses, including scleral lenses, RGPs, and multifocal soft and RGP lenses
Maintain accurate medical files for all patients
Strong understanding of medical coding
Build strong doctor-patient relationships
Handle eyecare emergencies
Doctor of Optometry (O.D.) degree
Possess a Florida optometrist license to practice
Possess and in-depth knowledge of eye related disorders and conditions
Possess a patient-first mentality and outstanding professional and interpersonal skills
About Gulf Coast Vision Center
At Gulf Coast Vision Center, the concept of eye care is more than just treating problems. We connect with our clients and care about their well-being. We believe that when we take a more investigative approach to eye care, we are better prepared to preserve and restore vision and enhance your overall health.
We provide comprehensive treatment and management of diseases such as glaucoma, macular degeneration and cataracts. We also treat problems related to dry eyes, allergies, diabetes and other systemic conditions.
We believe in the power of bringing positive change to our community. We partner with local organizations to provide services and resources to those in need. Our partnerships include: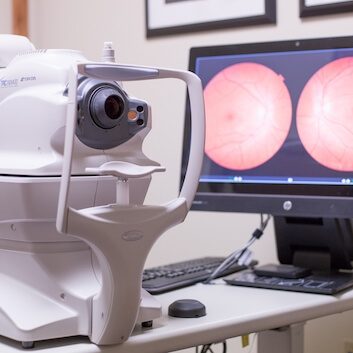 Ronald McDonald House (since 2011) - GCVC is the official eye care provider for the RMH; providing free eye exams and free eyeglasses to their residents.
Health and Hope Clinic (since 2011) - GCVC donates eye exam equipment to Health and Hope Clinic and performs exams at the clinic monthly.
St. Joseph Clinic (since 2011)
Blue Wahoos - GCVC is the official eye care provider for the Blue Wahoos.
Florida State Low Vision Initiative (since 2006) - GCVC partners with FSLVI to provide eye examinations, glasses and low vision aids to school-age children with visual impairments.
Give a Book - GCVC is an eye care provider for the Give a Book organization in Costa Rica.
University of West Florida - GCVC is an eye care provider for the faculty, staff, and students at UWF.