Your Guide to Multifocal Contacts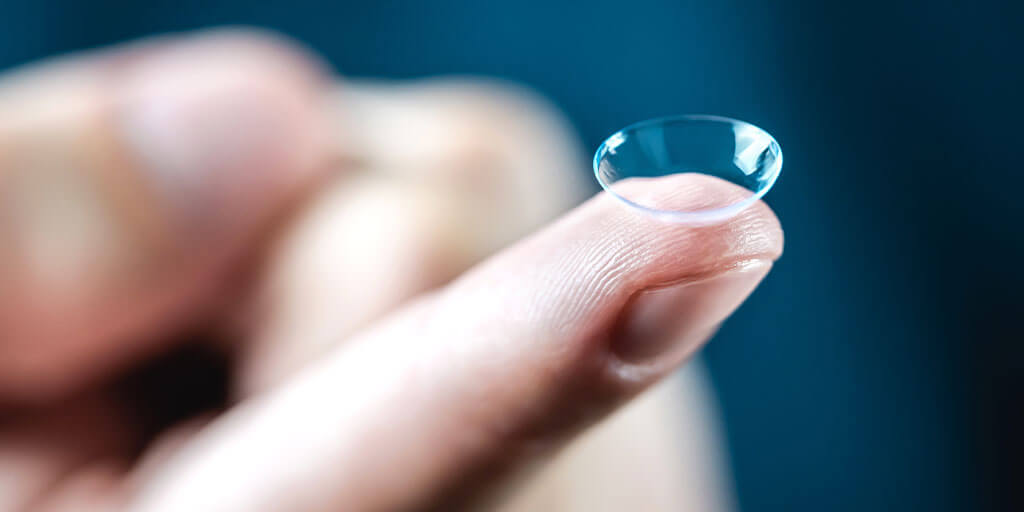 If you have refractive vision problems or trouble with your vision as you get older, you may benefit from multifocal contact lenses. Multifocal contacts provide clear vision at all distances, and they can improve your condition if you have a condition such as presbyopia, which means you need to hold objects at a distance to see the words clearly.
Multifocal contact lenses come in soft materials and rigid gas permeable materials. You can also wear disposable lenses. You have the convenience of throwing the lenses out, replacing them with new lenses.
Multifocal Contact Products Available
Lens manufacturers offer multifocal contact lenses made of silicone hydrogel material. The material allows more oxygen to reach the cornea than conventional soft lenses. You experience more comfort when wearing the lenses daily.
Popular contact brands include
Air Optix Aqua Multifocal
Bausch + Lomb Ultra for Presbyopia
Biofinity Multifocal
Acuvue Oasys for Presbyopia
Duette Progressive hybrid contact lenses
How Do Multifocal Contacts Work?
Multifocal contact lenses work in a variety of ways depending on the lens design. Contact designs fall into two main categories.
1. Simultaneous Vision
These multifocal contact lenses contain different regions of the lens that allow near and far viewing. Your eyes focus on the region of the lens that provides optimal vision. Two types of simultaneous vision design include concentric and aspheric.
2. Segmented Vision
Rigid gas permeable multifocal contacts contain a lens design for viewing distant objects. The lower portion of the lens adds magnification for viewing close objects. Segmented lenses are also called alternating or translating lenses.
Concentric Multifocal Contacts
Concentric multifocal contacts allow you to see distant objects by focusing on the lens center. This section of the lens is surrounded by concentric rings that act as bifocals, giving you the ability to see both far and near.
Concentric bifocal lenses consist of soft or rigid gas permeable contact lens materials, depending on the product and your needs. There are three main design options.
Center distance - Distant viewing is in the center of the lens.
Center near - Close viewing is in the center of the lens.
Center Dominance - Mixed viewing depending on the dominant eye.
Aspheric Multifocal Contacts
With aspheric multifocal contacts, there is a gradual change in viewing from far to near. Best of all there are no visible lines in the lenses, so you do not feel as though you are wearing bifocal or multifocal contacts.
The only downside to aspheric lenses is that your eyes have to get used to the changes in viewing. A variety of aspheric multifocal contacts are now available. In many cases, these types of lenses are disposable, giving you the opportunity to try on new lenses either periodically or as needed.
Segmented Bifocal Contacts
Segmented bifocal contacts are similar to bifocal eyeglass lenses. They offer two different types of viewing distances, with a line of separation between them. Your eye looks through either one or the other section, depending on whether you need far or near vision.
Bifocal contacts stay in position while your eye moves behind the lens. Therefore, you do not have to continue adjusting them like you would with regular glasses. When your gaze shifts upward or downward, the lens stays in place, allowing you to easily adjust as you go.
Am I a Candidate for Multifocal Contacts?
Whether you are a candidate for multifocal contacts depends on your eye condition, lifestyle, vision goals and other factors. You will also need to decide if you can adjust to these types of multifocal contacts—something that some find too difficult.
Today, developers are producing more successful designs, as well as a wider range of products. If one design doesn't work for you, another may be a better fit. If multifocal contact lenses do not provide adequate vision at all distances, an effective alternative is to wear eyeglasses with progressive lenses over your contact lenses.
Which Multifocal Contacts Are Right for Me?
Two factors that your eye doctor will consider in choosing a multifocal contact are pupil size and your "add," or near prescription. Aspheric multifocal contact lenses work best with mild to moderate presbyopia. In contrast, concentric or segmented multifocal contacts are appropriate for advanced presbyopia.
You may need to try different lens designs to find the one that's right for you. The cost of trial lenses is typically included in the cost of a multifocal contact lens fitting. Because fitting multifocal contacts usually takes more time and requires more expertise than fitting regular contact lenses, you should expect to pay more to be fitted with these premium lenses. The cost of replacement lenses will be higher as well.
Schedule an Eye Exam at Gulf Coast Vision Center
See your eye doctor to determine if multifocal contacts meet your needs. To schedule an eye exam at Gulf Coast Vision Center, contact us at one of our five locations in Northwest Florida.